LS-F ?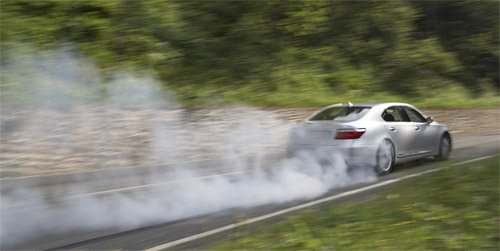 Uit meerdere bronnen komen de laatste tijd geruchten dat Lexus bezig zou zijn met de ontwikkeling van een LS-F. Nu komt ook autoblog met een artikel over deze bolide, nadat eerder dit jaar al geruchten de ronde deden over de GS-F (ook autoblog).
Lexus zou de GS-F in de ijskast hebben geplaatst i.v.m. oa. de duurdere benzine prijzen, maar nu de IS-F hogere verkoopcijfers heeft dan de M3 en de C63 AMG, zou dit project weer eens op tafel kunnen komen. Volgens Hirokazu Koga, de general manager van het Lexus development center, zou een LS-F wel eens in het verschiet kunnen liggen als de GS-F komt.
Quote autoblog: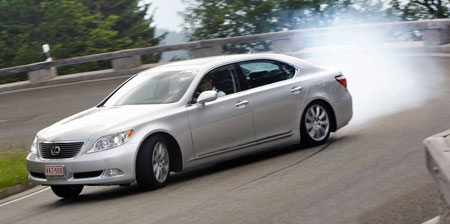 Lexus may be throttling back its plans to attack the performance side of its German rivals, but that doesn't mean it won't expand its F-badged lineup in the future. Hirokazu Koga, general manager of the Lexus Development Center and one of the men behind the IS F, told Autoblog that if the automaker goes forward with plans to create a GS F, an LS F could be in the cards.
Renderings and rumors of the GS F have been circulating since last year, but word came down in August that Lexus planned to delay the introduction of the 500+ hp sedan due to the economic downturn and the (then) high price of fuel. Add that to the possible cancellation of the LF-A, and things aren't looking good for Lexus' foray into the world of high performance.
If an LS F model would come to market, only a few drivetrains could be fitted to the hulking sedan to give it the level of performance necessary to carry the F badge. If Toyota does decide to build the LF-A, its V10 powerplant would be a great candidate for the LS F to provide motivation and defer some of the costs of the supercar.
According to two Lexus execs we spoke to, the IS F outsold both the Mercedes-Benz C63 and BMW M3 Sedan last month (we can't confirm, since Lexus doesn't break down sales of the IS by model), but if consumers are accepting the idea of a high-performance Lexus, than other models will surely follow.